Here is the Google I/O 2018 Quiz.Have you watched the Google I/O 2018 ? If yes, test yourself on how much you know about Google I/O Conference 2018 from Google I/O 2018 Quiz.
Google I/O 2018 Quiz Questions and answers
1.What is Google I/O?
Answer: Google I/O is an annual developer conference held by Google.
2. Where was Google I/O 2018 held?
Answer: Mountain View California
3.When was the first Google I/O Conference held?
Answer: 2008
Google I/O 2018 Quiz
4.What does I/O stands in Google I/O ?
Answer: Input/Output
5.What is the slogan of Google I/O?
Answer: Innovation in the Open
6. Google Cardboard was announced on which year I/O Conference?
Answer: 2014
7. What was the product announced by Google on Google I/O 2017?
Answer: Google Home
8. Google is working on something to remove your smartphone addiction on Android P, What is it?
Answer: Android Dashboard
9.Google will be more polite to you if you're using the word Please on your Google Assistant commands, what is this new feature called?
Answer: Pretty Please
10.Google Assistant is made to book your restaurant tables,salon appointments,many of your needs using automated phone calls. What is this AI-driven technology called?
Answer: Google Duplex
You're reading the Google I/O 2018 Quiz
11. The Google maps are revamped with this new option to navigate using your camera. What is used here other than GPS for building this augmented reality technology?
Answer: Visual Positioning System (VPS)
12. What new feature is being added to the Gmail for better composing experience?
Answer: Smart compose
13. What special input mode was added to the Gboard,who are not able to physically use the text input mode?
Answer: Morse Code Input
14. Which American singer's voice is coming to Google Assistant end of this year?
Answer: John Legend
15. What new AI technology was used by Google to model John Legend's unique voice based on samples into Google Assistant?
Answer: Wavenet
16. What does TPU stands for?
Answer: Tensor Processing Unit
17. Identify the device in photo
Answer: TPU
18. The TPU Chips are specially designed for which framework?
Answer: Tensorflow
19.Expand ASIC?
Answer: Application-Specific Integrated Circuit
20. Which was the first Android Mobile phone?
Answer: T-Mobile G1 (also known as HTC Dream)
21. What was the new thing that developers can use to convert App actions from the search bar?
Answer: Android Slices
22.________ teaches kids the fundamentals of digital citizenship and safety so they can explore the online world with confidence.
Answer: Be Internet Awesome
23.Below shown image is the curriculum of what by Google?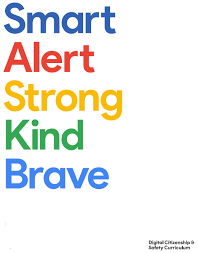 Answer: Be Internet Awesome
24.What was announced by google for developers which contains API's for Machine learning,Face recognition,image labelling,bar code scanning,landmark detection,smart labelling etc.. ?
Answer: ML Kit
25. What is the new gesture to activate Do Not Disturb — by turning your phone screen-down on Android P?
Answer: Shush
That's all for Google I/O 2018 Quiz from me, I expect more from you if you've watched the conference more keen than I did. Let me know in comments.