A knowledge initiative started by Tata Consultancy Services in 1999, it is the biggest interschool IT Quiz in India for students from class 8 to 12. The quiz aims to build awareness, emphasize the importance of IT skills and enable students to look at technology from innovative perspective. TCS IT WIZ has brought a massive shift in the world of quizzing. The quiz works as an alternative learning tool for students in an outside classroom environment. This is the sixth quarter final of TCS IT WIZ 2020, India's biggest and toughest technology quiz for schools consisting of 4 techies from the Gujarat region.
First Round : Digital Readiness
"To test the knowledge of modern era technical giant".
1.
What would this lead you to in terms of technology?
Ans. Bluetooth
2.
This is a famous man after whom an antivirus company is named
Ans. Norton
3.
A 4 – letter word came into existence from the first cover of this magazine
Ans. Byte
4.
Which company is this?
Ans. Apple
5.
Which telecom brand released the first ever online banner in 1994?
Ans. AT&T 
Second Round : Borderless Learning
"To democratise the technical learning in today's seamless world".
1.
What does the "M" stands for?
Ans. Mature
2.
It's a calculator which was sold to start a company. Name the company
Ans. Apple
3.
What in the world gets it's name from the Library of Alexandria?
Ans. Alexa
4.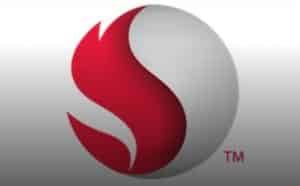 It's a famous Identity of which company?
Ans. Snapdragon
5.
The following line was said by a great man in technology. Who was he?
Ans. Bill Gates 
Third Round : @TCS
"Unfolding awareness about TCS budding business and absolute history".
1. In 1970, Tata Consultancy Services acquired an ICL which was so important for computers from Calcutta Electric company or Jadavpur University?
Ans. Calcutta Electric
2. TCS has a very important running program for it's employees with a belief that only if your employees are fit, the company is fit. What is the program?
Ans. Fit for life 
3. Tata Consultancy Services provides IT Solutions, Application Maintenance, and Application Development to a joint venture airlines between Singapore Airlines and the Tata. Which airline is this?
Ans. Vistara
4. TCS connected universe platform, better known as TCUP is basically an application platform based on what – Bluetooth or IoT?
Ans. IoT
Fourth Round : Analytics and Insights
"Many images are shown and the analysis and insights of techies on technical giant are seen".
1.
Who invented these two important machines?
Ans. Charles Babbage
2.
Name the person
Ans. Alan Turing 
3.
Name the company
Ans. HCL
4.
These people are the founders of a well known company. Name the company
Ans. SAP
Final Round : Multi Experience
"Scrutinising the knowledge of technical giants in much wide level".
1. It's a term that is used for someone who breaks security systems and services
Ans. Hacker
2. It is a type of computer program initially designed to prevent phosphorus burning on CRT screens
Ans. Screen Saver 
3. It came from the world of statistics, where the X, and Y position on a graph was used to refer to this tool
Ans. Mouse
4. What is the concept of phishing?
Ans. It is a term for stealing someone's personal data on the Internet